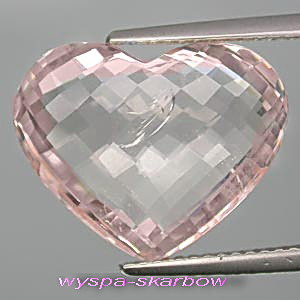 <-tu VIDEO-kliknij
Morganit – minerał, odmiana berylu. Odkryta w 1911 r. w okręgu San Diego w Kalifornii (USA). Zwany tez rozowym szmaragdem.
Nazwa pochodzi od nazwiska J.P. Morgana – bankiera, finansisty i kolekcjonera minerałów.
Właściwości
Barwa - różowy, brzoskwinioworóżowy
Połysk - szklisty
Twardość w skali Mohsa - 7,5-8,0
Gęstość - 2,71-2,90
Łupliwość - niewyraźna
Przełam - muszlowy
Inkluzja - wrostki zwykle jedno- lub dwufazowe, a także liczne wrostki biotytu, muskowitu, pirytu i rutylu (efekt kociego oka)
Różowa, ciemnoróżowa, przezroczysta odmiana berylu; zabarwiona domieszkami cezu, litu, rubidu, manganu.
Jest spotykany w pegmatytach, i w skałach okruchowych. Bywa znajdowany w łupkach biotytowych i utworach hydrotermalnych. Współwystępuje z turmalinem.
Występuje w Brazylii – Cruzeiro, Alto do Gis, USA - Kalifornia, Utah, Maine, Rosja - Ural, Republika Malgaska - Anjanabonoina, Tsilazina (rekordowe okazy osiagają masę ok. 5 kg).
Także: Mozambik, Zimbabwe, Kazachstan, Pakistan, Afganistan, Chiny, Włochy.
zastosowanie:
bardzo poszukiwany i wysoko ceniony kamień kolekcjonerski
kamień jubilerski (masa przeciętnych kamieni ok. 5 kr).
Najpiękniejszy okaz morganitu (czerwonoróżowy, szlifowany schodkowo, o masie 598,7 ct) pochodzący z Republiki Malgaskiej znajduje się w Ermitażu.
Zobacz też: minerał, beryl (minerał), akwamaryn, szmaragd, heliodor,
Morganite


Besides Emerald and Aquamarine , Morganite is probably the best-known member from the fabulous multi-coloured Beryl-group . Women all over the world love it because of its very fine pink colour which emanates charm, esprit and tenderness.

Also Gemstones Change their Names: Pink Beryl, aka Morganite

Although it came into existence millions of years ago, Morganite found its name less than a hundred years ago. To be precise, only in 1911, for before this the gemmologists considered "Pink Beryl" simply a variety of Beryl in general, and not as an individual stone. However, it is not only people but also stones who sometimes change their names. Thus in the year 1911 New York gemstone expert G.F. Kunz suggested to give Pink Beryl the status and standing of an individual kind of gemstone, and it was named in honour of banker and minerals collector John Pierport Morgan, thus receiving its current name: Morganite.


Beryls are hard minerals consisting of beryllium aluminium silicate. Pure Beryl is colourless. However, due to its hexagonal structure it is able to integrate other elements such as, e.g., iron, manganese, chromium or vanadium. If manganese is embedded in Beryl, the plain and unexciting gemstone is turned into a pink and precious beauty: Morganite. Today this gemstone is mainly mined in Brazil, Madagascar, Afghanistan and California. Its excellent hardness of 7.5 to 8 on the Mohs' scale is the reason why it is so ideally suited to being worn.

La vie en rose....

Morganite comes in many fine shades of pink. Some are clearly pink, others tend more towards purple. Even a slight orange hue may be sometimes discerned – after all, Mother Nature created the ideal gemstone colour to complement any shade of complexion. But no matter which shade and hue, Morganite always radiates charm, esprit and a certain tenderness. This gemstone is endowed with a wonderful gift: even in times of high stress it will manage to let you focus on the bright side of life. Just give it a try and see for yourself. The sight of a Morganite cannot fail to cheer you up. A person who decides for this stone, will be able to see "la vie en rose" even in the grey monotony of everyday routines. Therefore, then, it is easy to understand that for the stone healers, Morganite is considered the typical stone to be used as the antidote to cure the problems caused by hectic modern life: to relieve stress and provide clarity. It will provide a pleasant feeling of relaxation, peace and joy of life.

Colour and Cut Determine the Quality


When determining the quality, colour is the most important criterion. Please note: This gemstone should be selected as large as possible, for it requires a certain size to best bring out the beauty of the stone. The rule that a higher clearness equals a higher value can only be applied with restrictions, since a Morganite showing fine inclusions like pure silk is also quite coveted by gemstone lovers. The main decisive factor, then, is definitely the quality of the cut, because it needs a expert's cut to enhance the fine beauty and bring out the brightness of Morganite.