Kordieryt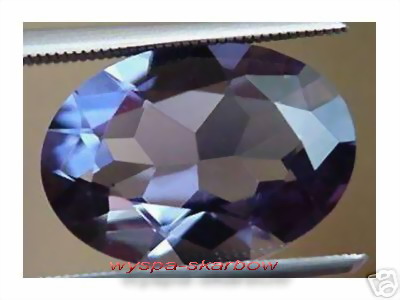 Kordieryt = Iolit (Ijolit) = Dichroit - minerał z gromady krzemianów. Należy do minerałów rzadkich.
Nazwa minerału wywodzi się od nazwiska A.Cordiera, francuskiego geologa, który jako pierwszy zajmował się badaniem kordierytu. Nazwy synonimów pochodzą od greckich słów ion = fiołek i dichroos = dwubarwny.
Minerał z grupy krzemianów pierścieniowych.
Układ krystalograficzny: rombowy
Pokrój: słupki
Barwa: szara, niebieska, żółta, fioletowa
Twardość w skali Mohsa: 7
Rysa: biała
Połysk: szklisto-tłusty
Gęstość: 2,6 -2,66
Łupliwość: wyraźna
Przełam: muszlowy
Tworzy kryształy słupkowe, często zbliźniaczone. Jest kruchy, przezroczysty, wykazuje silny pleochroizm o barwach żółtej, niebieskiej i fioletowej. Niektóre kryształy wykazują tęczową iryzację a także efekt kociego oka i asteryzmu. Zwykle niebieski. Stosunkowo często występują wrostki kryształów apatytu i cyrkonu z ciemnożółtymi obwódkami plechroicznymi. Wrostki hematytu lub goethytu wywołują czerwonawe zabarwienie. Bezbarwne i bladoniebieskie kordieryty należą do rzadkości.
Fioletowoniebieski kordieryt bywa również określany niekiedy szafirem wodnym, bowiem po oszlifowaniu przypomina wyglądem niebieski szafir.
Tworzy się w skałach bogatych w glin, zmienionych w wyniku metamorfozy kontaktowej lub regionalnej. Kryształy jakości jubilerskiej pochodzą ze złóż, które utworzyły się wtórnie.
Miejsca występowania: Sri Lanka - materiał pochodzący z aluwiów, Madagaskar, Birma, Indie, Namibia - Karasburg - odmiany szlachetne o pięknej barwie, Tanzania - Babati - odmiany szlachetne o zastosowaniu jubilerskim, Niemcy - Las Bawarski, Norwegia - Kragero, Finlandia, USA - Kalifornia, Idaho, Wyoming, Dakota Południowa, Kanada - Wielkie Jezioro Niewolnicze.
W Polsce - znany głównie z Dolnego Śląska (Masyw Karkonoszy, Góry Sowie, Pogórze Izerskie).
Iolite: Gem of the Vikings


When Leif Eriksson and the other legendary Viking explorers ventured far out into the Atlantic Ocean, away from any coastline that could help them determine position, they had a secret gem weapon: iolite. The Viking mariners used thin pieces of iolite as the world's first polarizing filter. Looking through an iolite lens, they could determine the exact position of the sun, and navigate safely to the new world and back.

The property that made iolite so valuable to the Vikings is extreme pleochroism. Iolite has different colors in different directions in the crystal. A cube cut from iolite will look a violetish blue almost like sapphire from one side, clear as water from the other, and a honey yellow from the top. This property led some people to call iolite "water sapphire" in the past, a name that is now obsolete.

Pleochroism may have been helpful in navigation but it makes things difficult for a gem cutter. If iolite is not cut from exactly the right direction, no matter the shape of the rough, its color will not show to its best advantage.

The name iolite comes from the Greek ios, which means violet. Iolite is usually a purplish blue when cut properly, with a softness to the color that can be quite attractive.

Iolite is readily available and surprisingly affordable. The better and richer the blue, the better. It is mined in India, Sri Lanka, Mozambique, Zimbabwe, and Brazil. The Vikings probably mined iolite from deposits in Norway and Greenland.

Iolite is relatively hard but should be protected from blows. With its attractive color and reasonable price, it may become a jewelry staple in the future.